Let me ask you a question.
How do you use google or any other search engine on your mobile?
Obviously, all your go-to websites are presented to you in apps (Amazon, Facebook, Gmail, etc.)
So Google today is essentially a problem solver. You ask in the 'Best Restaurant in Hyderabad', it presents you with the list of best restaurants while taking your location into consideration. Same goes with any query; 'Best Hardware supplier' you ask? It gives you a list of all hardware suppliers ranked, for you to pick the best.
But here's the catch, it was found that almost 95% of the people never go past the first page. So if your business website getting into the top results page helps you get loads of visitors every day.
Why does your business need Search Engine Optimization?
SEO -> more visitors -> more leads -> higher conversion -> better business -> increased profit.
Yes, you will be raking in more visitors and making better conversions without having to spend in external advertising.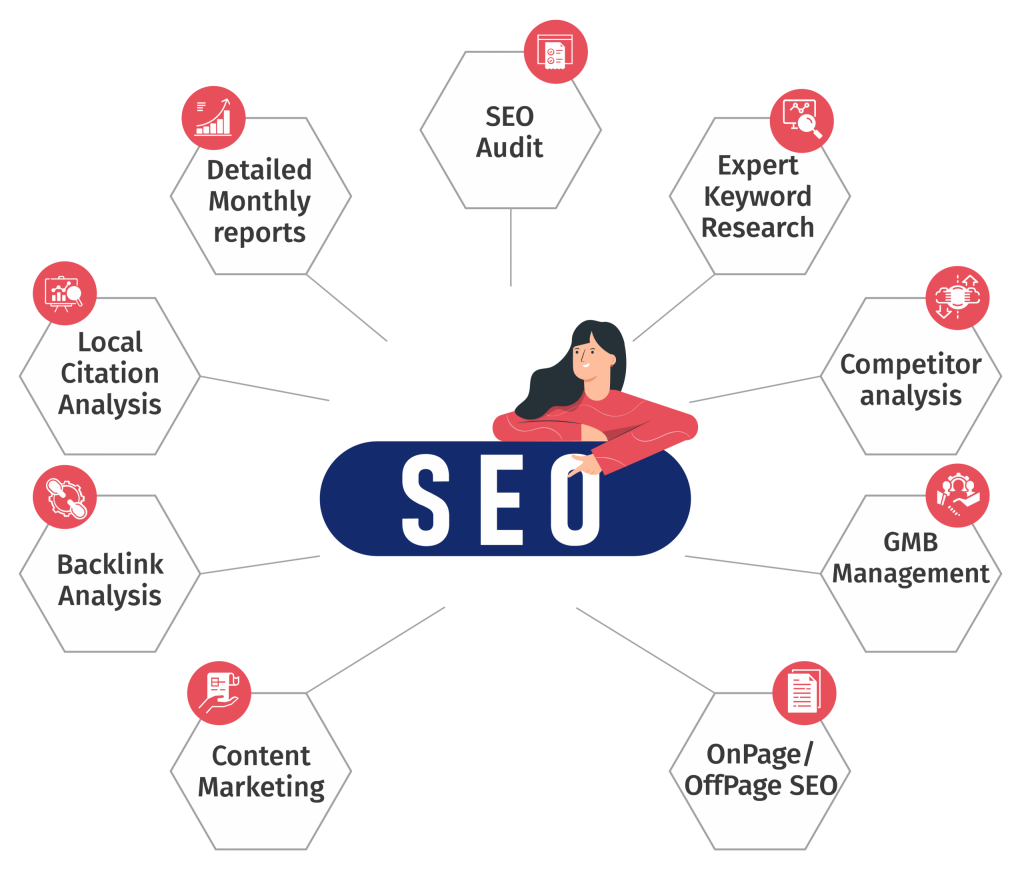 But how do you make it to the top of the search results page?
Simple: Search Engine Optimization
What is Search Engine Optimization?
Google or for that matter any search engines are far from just being a directory, they make decisions for the user. They decide which results to pop-up on the top and you cannot helps but user picks from the top results. These Search engines take numerous factors to rank the websites for each 'keyword' the user types in the search bar.
And Search Engine Optimization is the process of making your website worth enough to give your website a top ranking from search engines. So essentially Search Engine Optimization is an umbrella term for a variety of techniques that help you gain a lot of visitors to increase your business and ultimately the profit.
Elements of Search Engine Optimisation
Though Search Engine Optimization sounds like one straight forward technique, it is apparently not. The whole process entails a massive work both from the outside (Off-page) and on the inside (On-page).
1. On-page SEO: On-page SEO is the term for the all the techniques that are used to improve look, feel, form, and function of the website to make it more accessible to the Google in order to improve the rankings and thus visitors. Content creation, Keyword strategies, and implementation, Meta title and descriptions are some of the elements of On-page SEO.
2. Off-page SEO: SEO that is done from outside of the website in order to improve the visitors and rankings is termed as Off-page SEO. Backlinks generation, Social Media, Online directories are some of the elements if Off-page SEO.
If Search Engine Optimization is a technique that helps in improving rankings thus visitors, how come more businesses aren't leveraging it to improve their ranking?
Of course, they do. But to Search Engine Optimization is no simple task to master, it takes quality expertise, experience, and skill to rank businesses, especially when the competition is growing every day and only the top digital marketing companies in Delhi are capable of delivering results today.